'Holiday with your Horse...'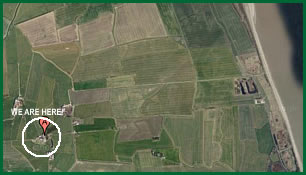 Almost all horse owners dream of cantering down a sandy beach. Wind in your hair, faint taste of salt spray, freedom to ride safely, no cars, no traffic... What a buzz......
Field Farm can help bring that dream true .....
Field farm benefits perfectly from its coastal location.
Mumby sits between Chapel St Leonards and Anderby Creek, approx 9 miles North of Skegness, on the East Coast of Lincolnshire.
The beauty of our location is that there's no re-boxing or transport required to get to the beach. Our nearest beach is less than a mile away, at the end of a green lane, which starts at the top of our drive.
Wake up, breakfast, tack up and away you go!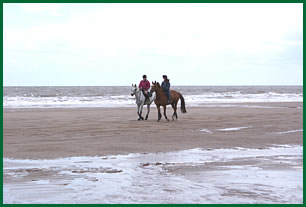 Field Farm has been designed to ensure you get the very best from your time here, from only £40 / horse / night you have access to superb stabling, paddock, hay, straw, indoor and outdoor sand schools, jumping paddock, 1.2mile cross country course, incredible off road hacking and of course the beach!
---
The picture below shows you our Holiday Paddocks;
---
And whilst your horse chills out in his or her stable there are numerous options for overnight accommodation for you....
We have grass pitches for lorries with day / night living. (Available from only £40.00 / lorry / night.)
We have an area for touring caravans, motor homes or tents. (Available from only £40.00 / tent / night.)
We have a number of luxury holiday homes sleeping 4 – 6 or 6 – 8 people. Please see our price list.